Biography
Amy Barker-Wilson trained in Europe as a textile designer, designed works both for industry and one-of-a-kind woven and painted pieces, which hang in public and private buildings in Europe and US. She has taught art and traditional textile crafts at all age levels as well as having trained and worked as an art therapist in schools and hospitals. Years ago she turned to painting as a primary medium and has studied with renown painters. Recently she began focusing on non-objective work on canvas, paper and silk.
She enjoys painting as a reflection of an unfolding process of discovery, a metaphor of spiritual perception and awareness, of spirit witnessing, participating and unfolding in the medium of life. Beginning by letting go of preconceived ideas of what should happen, she "dives deep" into the center, of a visual field the canvas holds, and feels the way step by step, of the journey, through the seeming chaos and change and beyond, … as formlessness gives way to coherence, to interconnectness and to a complex play of color, plane and line, recorded upon the visual unified field. Professional Resumé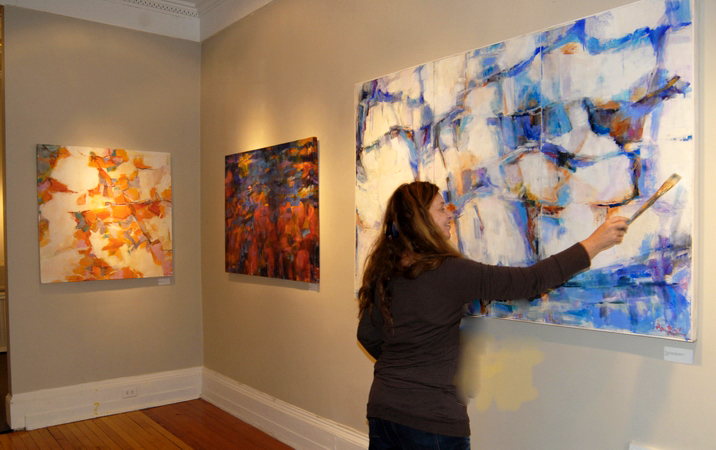 Opening Reception, Alchemical Transformations Foundry Gallery, May 7th 2010

Amy with Bamboo (Garden Wall Series)

Adriana Zarate, Amy and Bibiana Rojas with Alchemical Body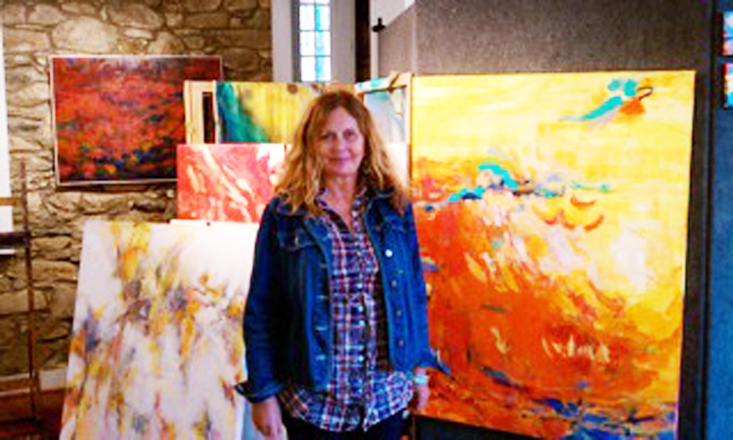 Amy Barker-Wilson artist in residence The Yellow Barn November 2010
Resumé
Education: BA Boston University, psychology and art; MFA (equiv.) Stuttgart Kunst- Akademie and California College of Arts and Crafts, Design& Textile Design; MA .ed. George Washington University, art education with emphasis in Art Therapy; Journeyman certification in Weaving and Textile arts, European Textile Guild. Studied painting with Patricia Friend and William Calfee of American University at the Kensington Workshop; later with Walt Bartman and Helen Corning at the Yellow Barn, Glen Echo, MD.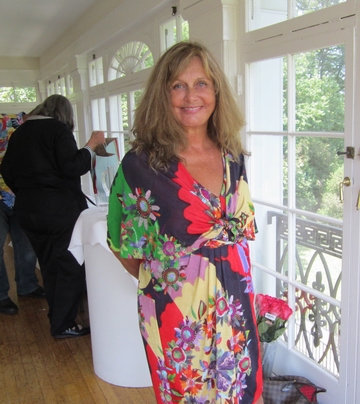 Art shows/commissions: Received a 2 year grant from the Germany government to work as an independent textile artist/designer, working on commission basis and contributing to gallery shows. Received grants to oversee installations of fiber production/ateliers in Germany, Denmark and Switzerland. Received multiple awards for textile designs and hand executed pieces which have shown at the Textile Museum in Washington DC as well as the Stuttgart Kunsthalle, Germany and State Library in Stuttgart and Sindelfingen, Germany and in other public buildings. Paintings on canvas and silk have been shown in the Washington DC area at the Foundry Gallery, Dumbarton Oaks, the Yellow Barn, Montgomery College Gallery, Fiberworks Gallery, Touchstone Gallery; the Art League at the Torpedo Factory, as well as Gallery 21 in Alexandria VA; The Arts Club of Washington DC; River School Gallery in Brattleboro, Vermont; and additionally shown in churches and other public spaces. Works displayed in Brattleborro, Vermont's River Gallery School. Paintings, silk paintings and in fiber (weavings and printed textile) appear in many private homes as well as public spaces in parts of Europe and of the US.
Art teaching/work: Have taught in art and crafts in private high schools in the Washington area for many years, before that in Boston, MA and Sindelfingen and Tubingen, Germany; have taught at art schools including the River Gallery School in Brattleboro VT and the Glen Echo Arts Center, as well as The Yellow Barn in MD; have worked extensively as art therapist/teacher in various settings in particular, work with adolescents in school setting, as well as shelter and hospital settings, including Children's Hospital, Washington DC.
Current galleries and show associations: Foundry Gallery, Washington DC, member; LIVING OUT LOUD, a group showing jointly non-representational work; member, Strathmore Center for the Arts, Rockville MD; The Art League, Torpedo Factory, Alexandria VA.; Yellow Barn, Glen Echo MD. Works have been shown in local papers, Montgomery County Journal and The Washington Post, Threads, Design and Architecture. Most recent work documented in paper and magazines: 2010 Collector's Edition Amsterdam-Whitney Gallery; annually since 2008 to current year American Art Collector Magazine.